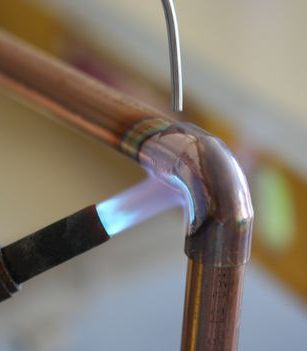 When the old galvanized iron pipes are removed and high quality copper pipes are placed, you will enjoy:
Increased water pressure
Clean, clear water
Happy Tenants
Being able to use more than one shower at a time.
High quality plumbing
No more leaky pipes
Secure piping system that last forever
No scalding in the shower when someone turns on a faucet.
Get faster hot water
Positive selling point for your property
Great peace of mind
If you answered "YES" to any of the above questions....You are in need of All American Repipe & Plumbing. Give us a call for free estimate at 1-866-499-pipe (1-866-499-7473).
We use only the finest American-made pipe and fitting.
Type L or K copper tubing
Shut off valves and angle stops are made of brass or stainless steel
Supply lines are stainless steel braided
Lead free solder
Water soluble flux for soldering.
Dial 1-866-499-pipe (1-866-499-7473) for a free on-site estimate.